Hero or traitor?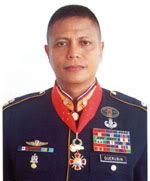 Is marine Col. Ariel Querubin a hero or a traitor? It's hard to tell. Especially since we don't know all the facts regarding recent events which have been seemingly hidden by a veil of military secrecy.

Col. Querubin was one of the three military officers relieved last February 24 for allegedly being involved in a plot to overthrow the government. Three days later, he led a group of marines in refusing the authority of incoming marine commandant Brigadier General Nelson Allaga. What resulted was a tense standoff which lasted several hours before finally being resolved.

To further fuel the controversy, Querubin's wife was said to be a recipient of a check amounting to P3,000,000.00 in behalf of a Philippine Marine cooperative, with the funds originating from a foundation with Estrada connections.

Some quarters claim that Col. Querubin was paid by some people linked to former President Estrada to stage a coup. There are some who say that he did what he did in the afternoon of the 27th of February out of a sense of honor, when he maintained his allegiance to his former commanding officer, whom, he believed, was forcibly and unceremoniously relieved.

Who's to say if he's a hero or a traitor? Certainly not me, since there aren't enough facts to make a conclusion one way or another. But what I am certain of is that there is indeed more to this story than what we have watched on TV, what we have listened to on the radio, and what we have read on newspapers and on the internet.

It is ironic that one of the military officers the Arroyo administration has branded as one of those "military adventurists" bent of toppling the government happens to be a genuine hero, having been awarded the Medal of Valor by no less than President Arroyo herself for courage and bravery in leading a battalion of marines against a superior number of MILF fighters in Mindanao in 2000.

Now he has been stripped of his command, and stays at his residence in Camp Aguinaldo with his family, tight-lipped to the press on the events which transpired only a week or so ago.

An investigation is now underway, but I doubt it if we will ever know the complete truth. Not that it really bothers me or anything. The truth about a lot of things seem to be elusive lately. After a while you just get used to it.

But of course, curiosity sometimes has its own rewards.

Some research has turned up a copy of the Class of '79 Philippine Military Academy Yearbook. Here's a glimpse of Col. Querubin, fresh out of the academy: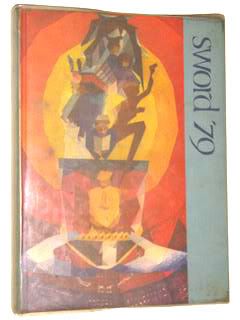 sword '79.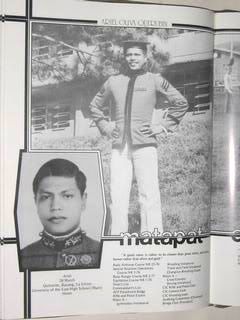 Col. Ariel Querubin 27 years ago.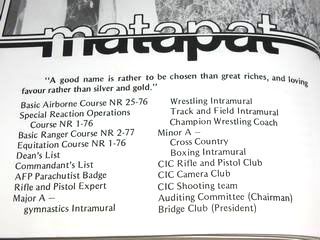 Obviously intelligent, well-rounded, and a natural leader during his academy days.
One can only wonder what is it that would make one of the armed forces' finest, most decorated warriors, a marine no less, turn against the chain of command, assuming of course that that is indeed what happened. Your guess is a good as mine. But somehow, it isn't really difficult to figure out why, given the current state of Philippine politics.

Karangalan, Katungkulan, Kabayanihan

- Philippine Marine Corps motto

If only there were more of them to go around.