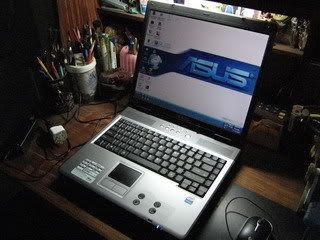 I finally bought my first notebook computer.

I've been meaning to get one for some time now, but I never really got around to actually buying one, since I really didn't think I needed one before. I was simply content to use either of the two desktops I have at home, or the rather antiquated one I have in the office. The fact that I didn't have the funds for it or that most new notebook computers then were really expensive didn't help much either.

With a little spare cash and a plethora of inexpensive models now flooding the market, I decided it was high time I took the plunge.

After conducting a thorough research of locally available makes and models, I ended up choosing an Asus A9Rp notebook computer. Considering the low price of admission (29,900.00 PHP, or about 650 USD) I was able to get a notebook with a 1.86 GHz Intel® Celeron® M processor processor, a 15" display with ATI Radeon™ Xpress 200M graphics, 512 MB of DDR2 SDRAM memory, an 80 GB hard drive, a CD-RW/DVD combo optical drive, three USB 2.0 ports, a built-in card reader, modem, Ethernet, and 802.11 b/g.

In addition, the bundle includes a carrying bag and a Logitech Mini Optical Mouse Plus.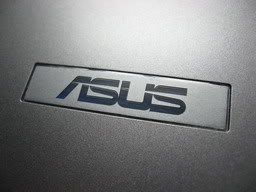 I also thought about notebooks from other brands, but after taking into consideration value-for-money, Asus' reputation for quality and reliability (Asus is the top manufacturer of desktop PC motherboards and also manufactures components for top-shelf brands like Apple, Alienware, HP and Compaq), and support (two-year global warranty), I figured Asus was the way to go.

Of course, at this price point you're expected to make a few sacrifices, but thankfully none were really major.

The notebook itself is a bit on the heavy side, weighing 3.2 kg (7.04 lbs). The design is a bit dated. An operating system isn't supplied. Battery life isn't as long as the more expensive models, since the Celeron M processor doesn't support Intel's SpeedStep™ (clock-throttling) technology. Despite this shortcoming, the notebook is quite capable of squeezing more than two hours of life from the standard six-cell battery pack. Not exceptional, but adequate for my purposes.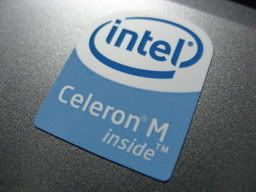 As far as performance is concerned, the Celeron M doesn't really give up much despite being branded a "Celeron". The installed CPU is a single-core Model 440 Celeron M which has 1,024 KB of L2 cache and runs at 1.86 GHz off a 533 MHz front side bus. The processor itself is based on the 65 nm "Yonah" core which forms the basis of the Intel Core Solo and Core Duo processors, and as such has all the same features and performance enhancements, except for the full 2 MB L2 cache and the SpeedStep™ unit, which are standard on Intel's top-of-the-line mobile processors.

Comparatively, the 1.86 GHz Celeron M is a match even for higher-clocked Mobile Pentium 4 based notebooks or any Centrino/Pentium M notebook with a lower clock rate. At equal clock rates, a Pentium M or Core Solo will slightly outperform it due to the bigger L2 cache, but if you're looking for a Pentium M or Core Solo based notebook, expect to pay a premium for it. If its bang-for-the-buck processing power you're after, you'd be hard pressed to find a better deal than a dirt-cheap Celeron M.

I'm particularly pleased at having been able to find a cheap notebook using a Radeon™ Xpress 200M chipset, especially it being a DirectX 9.0 capable part. Sure, it's no graphics powerhouse, but it certainly beats the more common Intel® Graphics Media Accelerator 950 which is less powerful graphics-wise. While I may not be able to run top-tier 3D games on my notebook, at least I don't have to give up gaming altogether when I'm on the road. The Xpress 200M chipset can also run the Aero Glass GUI of Windows Vista in it's full glory, so I'm covered when I decide to upgrade to Vista later on.

All-in-all, the Asus A9Rp is a pretty cheap notebook which has virtually all of the bases covered, and it doesn't seem likely that you can do much better at this price point, especially with the standard two-year warranty. However, if you're looking for long battery life, consider instead a notebook based on a full-pledged Pentium M, Core, or Core 2 processor. Or get one with a Celeron M, and use the savings on buying an extra battery pack instead.

Links:

Tech.co.uk | Review | Asus A9RP