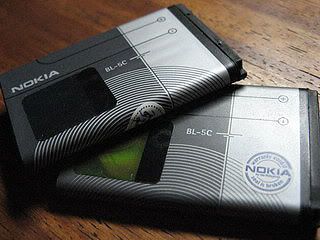 If you own a Nokia cellphone which uses a BL-5C battery, you may be at risk of it blowing up in your face.

A few days ago Nokia released an advisory regarding the possibility of such batteries exploding while being recharged. The problem has been traced to a batch of batteries manufactured by Matsushita Battery Industrial Co. Ltd. of Japan between December 2005 and November 2006.

To be on the safe side, if your cellphone is manufactured by Nokia, check the battery if it's a BL-5C type. The part number is printed in the middle of the front of the battery.

If your battery is indeed a BL-5C, go to Nokia's product advisory page and enter your battery's serial number in the space provided to determine if your particular battery is among those at risk. If it is, Nokia will send you a new battery via courier from Finland.

I have three batteries of the same type, though after checking none of them appear to be part of the defective batch.

The procedure in identifying whether your battery is potentially at risk of exploding as I've described above is pretty straightforward, especially if you're computer literate, but apparently not straightforward enough for Senate President Manny Villar who argues that most Filipino users whose batteries have been identified as defective would be forced to keep using them until replacement batteries have been sent from Finland.

He also argues that the process for checking the battery's serial number is lengthy and cumbersome, and not accessible to most Filipinos who don't have internet access.

I agree somewhat with his assessment that the replacement program could be implemented in a more simple and prompt manner, given of course the potential for injury if a battery does explode.

To my mind, the best way would be for owners of potentially defective batteries to simply bring them in to authorized Nokia service centers which can identify right then and there if the battery is indeed part of the defective batch. If they are, brand new replacements should be given outright.

To avoid the hassle of going to a service center, Nokia could also set up a hotline where battery owners can call in and submit their batteries' serial number for identification. Only after a battery has been identified would the owner go to a service center to get a replacement.

Conversely, Nokia could also opt to just have the entire list of serial numbers of defective batteries printed in a newspaper, but I strongly doubt if this would be the most practical means, since we're talking potentially hundreds of thousands of serial numbers, maybe even more. Even if Nokia would go that far, I doubt it if the typical person would spend that much time scouring a list of hundreds of thousands of serial numbers just to see if his or her battery is part of the batch.

So, in hindsight, querying the serial numbers through the internet is probably a good compromise. If only they would deliver the new batteries faster.

I find it somewhat amusing how some people describe the process for identifying potentially defective batteries as "tedious" since nowadays virtually everyone, regardless of social class, has access to the internet. Of course we're not talking 100%, but a high percentage nonetheless, especially among the techie crowd to which high-end Nokia models appeal to.

Of course, about half of the models Nokia has identified as using BL-5C batteries are entry level and midrange phones. So I guess most owners of these type of phones are ordinary users and aren't as computer-savvy as those in the techie crowd. In this regard, simpler means of having their defective batteries replaced definitely seems appropriate.

Frankly, I could care less about those tech poseurs who buy the latest and greatest cellphones just for show, never mind the fact that they don't have the brains to use the advanced features, they only want bragging rights.

And now some of these poseurs are probably whining and bitching over the fact that they have to go online just to see if the batteries of their precious fashion accessories are at risk of blowing up in their faces.

This people have no qualms over buying a cellphone for thirty or forty grand (in PHP) and yet they complain over visiting a website.

Go figure.