La Naval procession....
Every second Sunday of the month of October, Catholics from all over the country converge in the streets surrounding the Sto. Domingo Church to participate in a procession honoring Our Lady of the Most Holy Rosary.

This year, as suggested by a friend and former colleague, I was there along with my son to observe, pray, and pay our respects.

A couple of pictures: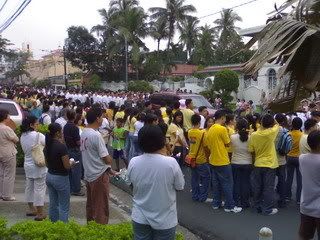 The number of participants this year was certainly in the thousands.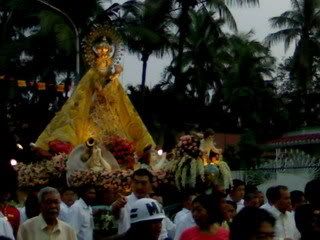 The statue of the La Naval of Manila making its way among the faithful.
Prayer:

La Naval de Manila, Queen of the Most Holy Rosary of the Philippines, Mirror of Justice, help us to pray for the greatest victory, the victory of Your Son's Peace in the Philippines and the entire world. We ask you to help us remember that one of your most blessed titles is Queen of Peace.

Links:

Our Lady of the Rosary of the Philippines: La Naval of Manila