More on the Nuvitron Electronic Fuel Economizer....
Here's a short historical and technical brief of the Nuvitron Electronic Fuel Economizer, a supposed fuel-saving device invented by Filipino Perlito Cabauatan.

Is this device for real, or is it nothing but hot air just like the Khaos Super Turbo Charger?

Read the following article and judge for yourself. If you're technically oriented and have your own theories on this device, please feel free to share them by posting a comment.

Thank you to Ms. Lani Cabautan for sharing this write-up with this blog.
---

NUVITRON ELECTRONIC FUEL ECONOMIZER
Hope for the Filipino Motorists' Plight
BRIEF HISTORY

The birth of NUVITRON Electronic Fuel Economizer began when Mr. Perlito Cabauatan, a native of Bayombong Nueva Vizcaya, bought a second-hand Mitsubishi L300 Utility Van in 1997, and was irritated with the noise that the engine generated. Having graduated as a Radio Technician from the University of the East, and having served as a Radio Operator in Saudi Arabia for 15 years before coming back to the Philippines in 1997, his keen and sensitive auditory functions were very much bothered by the clatter of the van's engine.

Armed with his passion for research, and his enthusiastic knowledge of electronics, he decided to work on a device that would address the noise concern. Thus the conception of NUVITRON Electronic Fuel Economizer.

Regardless to say, Mr. Perlito Cabauatan not only was able to reduce his engine's noise to a steady purr, but he was also able to serendipitously discover a device that works miracles in terms of fuel consumption, harmful emissions, engine power, and so much more.

HOW DOES IT WORK?

Liquid fuel molecules tend to cling to each other by their natural attraction. These particles pass through the fuel line in bunches or clusters. When they are fed into the combustion chamber, they are not completely burned resulting in polluted emissions detrimental to our environment.

NUVITRON Electronic Fuel Economizer applies digital signals at a scientifically specified rate so that there is no chance for the particles to coagulate. It forces the atoms to be freed from their orbits and makes them evenly spaced.
When the fuel is fed into the combustion chamber, most of the fuel is burned, reducing fuel loss, and resulting in almost total combustion. The results are big fuel savings, more engine power, less engine noise, and cleaner emissions.

The frequency produced by the device processes the fuel particles and increases their potency for easier combustion.

NUVITRON Electronic Fuel Economizer's action on fuel is analogous to:
Chewing food properly for better digestion,


Chopping logs into smaller pieces for easier combustion, and


The use of ultrasound technology to dissolve kidney stones.
FEATURES
Fuel Economy of 20-30% or more – No fuel is left unburnt and wasted.

Better acceleration and more engine power – Because the vehicle's engine is not pressured to process inferior-quality fuel.

Cleaner emissions - Due to enhanced fuel combustion.

Lower engine noise and lesser vibrations – Engine experiences lesser strain.

Adaptable to any engine – Gasoline or diesel engines; from motorbikes to 10-wheeler trucks.

Absolutely no mechanical manipulations are made on your engine – Plug-and-Play technology.

Upgradeable to special functions and purposes – NUVITRON's design is applicable to land, water and air transportation vehicles.

Safe and lightweight – NUVITRON's Auxiliary Unit puts no strain on the fuel line.

Very affordable and reasonably priced – At a retail price of Php 4,500.00 only, it is the most pocket-friendly, state-of-the-art fuel-saving device among its competitors!
REALIZATION OF A DREAM

Mr. Perlito Cabauatan's vision of providing an effective means of alleviating the constantly rising cost of fuel and being able to help save the environment at the same time was made tangible when during the 2004 National Inventors' Week, NUVITRON Electronic Fuel Economizer held its first exhibit at Philtrade in Pasay City.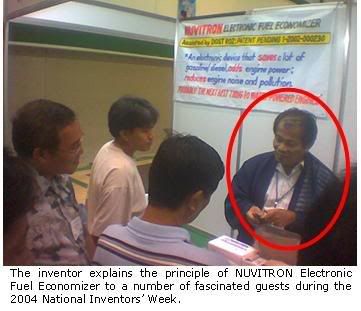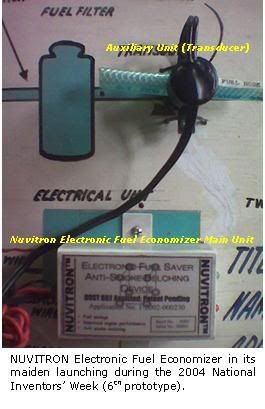 During the recently held 2006 National Inventors' Week, NUVITRON Electronic Fuel Economizer with its new look and packaging was exhibited. This time, to promote awareness and to introduce it to motorists prior to its nationwide commercial release this coming December 2006.