Rig update....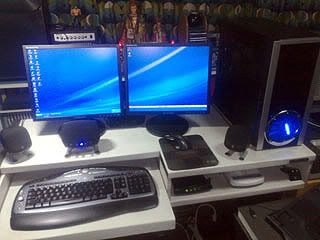 A couple of weeks ago I upgraded my entire PC...well, at least most of it, after my video card failed.

To be honest, I was quite happy with the performance of my old Athlon 64 rig, but after being faced with the prospect of a defective video card, it didn't seem right to invest in a new mid-range AGP video card, considering that PCI-Express is now the de facto video card interface, and AGP is on its way to extinction.

It started innocently enough. For no apparent reason my PC started crashing, and the startup screens started showing columns of weird checkerboard patterns. Strangely enough, I could run the PC perfectly fine when the video card was in VGA mode, but when I installed GeForce drivers and rebooted, nothing happened. Literally. The PC would just sit there, with the monitor blacked out. I could reboot into safe mode, but that was about all that I could do.

The symptoms my two-and-a-half year old Inno3D GeForce 6800LE showed seemed strangely similar to the symptoms exhibited by defective NVIDIA mobile GPUs. In fact, some screenshots of defective GPUs posted on the web showed virtually similar artifacts as my 6800LE. I can't help but suspect that NVIDIA's defective chips extend significant further than the mobile 8400M and 8600M GPUs which they have originally claimed to be the only ones affected, and that the problem extends to other GPUs as well, including those used on desktops. Well, suffice it to say that I'm avoiding anything with an NVIDIA brand name for the foreseeable future, at least until these defects get sorted out.

Well, going back to my rig, I ended up buying a new case, motherboard, processor, memory, video card, power supply, and an optical drive. I reused all my older hard drives, my sound card and speakers, my monitors, keyboard and mouse. The processor and video card were selected not only on the basis of performance and cost, but also on the basis of power consumption.

After assembly, this is my completed system:

Processor: Intel Core 2 Duo E7200 (Wolfdale core, 2.53 GHz, 3MB L2 cache, 1,066 MHz FSB)
Motherboard: Asrock Wolfdale1333-GLAN R2.0
Memory: 2 x 2 GB Apacer DDR2-667 Unbuffered DIMM (4 GB total)
Video: PowerColor PCS HD3650 512M GDDR3
Sound: Creative Labs Sound Blaster Audigy Digital Entertainment SE
Hard Disk: 2 x Seagate Barracuda 7200.7 ST380011A (PATA interface, 80 GB 7,200 RPM), 2 x Seagate Barracuda 7200.7 ST380011AS (SATA interface, 80 GB 7,200 RPM)
DVD-Writer: Samsung Super-WriteMaster SH-S223Q
Mouse: Logitech MX600 Laser mouse (Logitech Cordless Desktop MX3000 Laser)
Keyboard: Logitech MX3000 (Logitech Cordless Desktop MX3000 Laser)
Speakers: Logitech Z-640 (5.1)
Monitor: 2 x 17" Samsung SyncMaster 740N
Power Supply: hec Raptor R500 (500W)
CPU HSF: Stock
Printer: hp LaserJet 1010

This rig should be upgrade-proof for at least a year, longer if I'm lucky.

I also upgraded my 15-month old laptop. I'll tell you all about it in a future post.