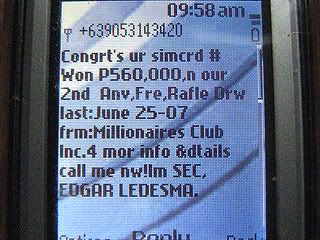 I've won! I've won! - NOT.
The past several months I've been getting quite a number of text messages on my cellphone informing me that I have won a sum of money in some sort of raffle, and instructing me to call back and look for the person whose name was mentioned in the message.

If it sounds to good to be true, that's because it is.

This is what is known as a text scam.

Text scams first came out a number of years ago, with the rising popularity of cellphones with SMS capability (and consquently the number of suckers who own one). Presently, with approximately 30 million cellphones all over the country, scams like these are quite common.

This message is obviously bogus, and was designed by some unscrupulous souls to appeal to the avaricious and gullible among us for the purpose of scamming them into giving up hard currency, for processing or facilitating the release of their so-called "prizes".

Sadly, a lot of people have already fallen prey to this modus operandi, no doubt overcome by the glorious promise of easy money. Of course, the ones getting the easy money are the perpetrators of this scam.

Here are some examples of the messages I have received, complete with the numbers that sent them:
---
D'AUDITOR's of PHIL.CHARITY FOUNDATION nform u dat ur Celfon no. Won Php950,000.00 2nd prize Winner draw last:03/01/07 Call Me Now I'm Atty.LIONARDINO V VALDEZ

Sender: +639176170683
Sent: 12:18PM 03-04-2007
---
Congrt's ur simcrd # Won P560,000,n our 2nd Anv,Fre,Rafle Drw last:June 25-07 frm:Millionaires Club Inc.4 more info&dtails call me nw!Im SEC, EDGAR LEDESMA

Sender: +639053143420
Sent: 01:29PM 07-09-2007
---
D'AUDITORS of GMA CHARITY FOUNDATION nform u dat ur CELFON nos. WON P 950,000.00 2nd prize winner,drw last.05-24-2007 PLS CALL ME NOW,IM,MRS LELIBETH SANCHEZ

Sender: +639174653165
Sent: 10:50PM 05-26-2007
---
(Notice):Ur simcard #won P680,000 In Our 2nd Anv PreRAffle drw last:Oct,31/07 frm Millionaires Club inc. 4 more infor &dtails call me nw! im sec,VIC E CUEVAZ

Sender: +639165536075
Sent: 6:37PM 11-04-2007
---
If you receive a SMS similar to the ones above, it's bogus. Simple as that.

Some dead giveaways that the text message is a scam are the following:

1. The number used is eleven digits, for example, 0916xxxxxxx. Legitimate promos typically use a four digit number.

2. Did you join any raffle promo? If not, how can you possibly win?

3. If you take the bait and decide to call, the person on the other line usually asks for a prize processing fee, a tax payment on the prize, or something similar to be deposited in some bank account.

4. Personally, I feel that if a company can afford to give away hundreds of thousands or even millions of pesos via text, it would be safe to assume that that company can easily afford to hire an employee who knows proper spelling and grammar.

If you see all these warning signs and you still go on and part with your money, shame on you. You probably deserve to have your money taken away from you.

Unfortunately, despite searching the internet particularly the websites of the providers and government agencies concerned, other than some advisories warning the public, there doesn't seem to be a clear-cut mechanism on how to report or apprehend these criminals. It would be nice if there's a way to at least report the numbers used so these numbers get blocked, or if there was some task force somewhere which specializes in entrapment operations against the perpetrators of this fraud.

If you happen to hear of anything, let me know. For now, all we can do is be careful.

So, what do you do if you get such a message?

The easiest thing to do is to ignore it, delete the message right then and there.

If you're feeling a bit sadistic, you could text or call back and give the sender a piece of your mind, but then again why bother? You'll be the one paying for the text or call.

Just be vigilant, and don't believe everything that you receive on your phone.

Walang manloloko kung walang nagpapaloko.