After weeks of refueling at Shell service stations, I was finally able to complete my collection of 1:38 scale Ferraris. Shell is selling the model Ferraris for P50.00 each for every purchase of P500.00 worth of Shell V-Power fuel, or for P100.00 if you buy P500.00 worth of other Shell fuels.

The models are made by Hot Wheels and the quality and detail are pretty good. Unfortunately, they're only made of plastic and not die-cast metal. At only P50.00 though, I'm not complaining.

Completing the collection isn't as easy as you may think. First of all, I don't really travel all that much, so I had to be a bit patient as I waited for the needle on my fuel gauge to go down before I could refuel again. Secondly, not all Shell service stations have the complete model line-up in stock, so I have to ask what models they have available before I refuel. If they don't have the particular model I'm looking for, I look for another Shell station. Thirdly, have you noticed how high gas prices are lately?

Well, this is what I got for my trouble: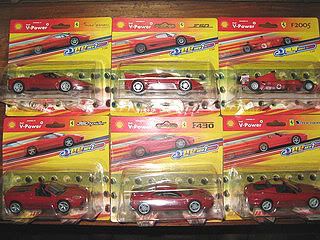 The complete collection.



Ferrari F50. This was the very first one I got.



Ferrari F430.



Ferrari Enzo.



Ferrari F2005. This is perhaps the most difficult model to find, most Shell service stations don't seem to have them in stock.



Ferrari F360 Spider.



Ferrari Superamerica.
If you want to collect them yourselves, the promo will last until the end of the year, so you still have a few weeks left.

Some people may dismiss these models as nothing more than mere child's toys, but hey, these miniature babies are probably as close as I'll ever get to owning a real Ferrari.

I wish they'd give away the real thing though. :-)