Presenting the Nokia N95 8GB.

Note:

Turn off the background audio first at the bottom of the page before clicking the play button.

Nokia N95 8GB commercial.
More than a year after I last upgraded my main phone, I'm at it again, and my cellphone of choice now is none other than the flagship of Nokia's Nseries, the Nokia N95 8GB.

While my old Nokia N70 was a mere evolution of the venerable Series 60 platform, the N95 takes mobile phones to a whole new level with a feature list significantly longer than any other high-end phone on the market today.

For starters, it's a quad-band 3G phone. No, make that a 3.5G phone. It supports the High-Speed Downlink Packet Access (HSDPA) standard, which enables it to transfer data at 1.4-1.8 Mbps, around three to five times faster than 3G or 384 Kbps DSL. And HSDPA is not a standard that's still waiting in the wings. Globe Handyphone already supports it. With this speed you can make smooth video calls and browse the internet faster than even most wired connections.

It's a 5 megapixel auto-focus digital camera. Not so long ago 5 megapixels were a lot to have on a dedicated digital camera. Now, the clarity and resolution that was previously only available on dedicated digital cameras is now built in the N95, thanks to its 5 MP CMOS sensor, Carl Zeiss optics, 20x digital zoom and integrated LED flash. And for video calls and self portraits, there's the ubiquitous .3 megapixel VGA camera up front.

It's a video camera. It captures a MPEG-4 VGA video at 30 frames per second. And with 8 GB of storage you can store hours of video. Perfect for those wannabe porn stars. :-)

It's an MP3 player. You can use ordinary headphones via the N95's built-in standard 3.5 mm minijack. It also has built-in stereo speakers, a graphic equalizer as well as 3D audio, and the sound quality easily rivals that of dedicated MP3 players. It has built-in FM radio reception as well.

It's an internet access device. You can access the internet via GPRS, EDGE, 3G, or HSDPA through your provider's network. If you're near any wireless LAN, you can also go online via the N95's built-in Wi-Fi.

It's a GPS receiver. You can easily determine your position anywhere in the world through the United States' network of GPS satellites.

It's a hand-held game machine. It plays Next Generation N-Gage games.

It's a flash drive. Plug it in any PC with the supplied USB cable, and voila! you have an instant storage device. The cable isn't even proprietary, you can use any cable with a standard mini USB end. So much for that Pop-Port nonsense.


And with 8 GB of internal flash memory, you can store literally thousands of songs, pictures, videos, or any other data.

It also supports Infrared and Bluetooth transfers.

There's hardly anything this mobile phone can't do. It can do so much that Nokia doesn't even call it a cellphone. Nokia calls it a multimedia computer, and given its capabilities it seems like an apt description. All of this functionality in a package smaller and lighter than my old favorite, the Nokia 6600.

Of course, it's not perfect. It costs as much as some notebooks, so you really have to ask yourself first, do you want a high-end phone, or a low-end notebook?

At the end of the day, the N95 can still be considered a bargain. How so? Well, if you buy an ordinary cellphone, a digital camera, a video camera, an MP3 player, a PDA, and a GPS receiver, almost certainly you'll pay a lot more than if you just bought an N95. It's all those features which make the N95 a relatively good buy.

Aside from its rather astronomical price, there isn't much to nitpick about it. I was a bit concerned about the durability of the slider mechanism, but it seems sturdy enough for daily use. Battery life appears to be a tad more brief than the battery life of my N70, but if you can restrain yourself from playing with all the features, the battery will last a good three days or so, about the same as any other phone. At this price level, rapid obsolescence can become a concern, but given its long list of features, it's a safe bet that you won't be needing to upgrade from it anytime soon.

Of course, I've said that before, but I always end up upgrading nonetheless. Let's just see what new technological breakthroughs they will come out with in the next year or so.

Some pictures: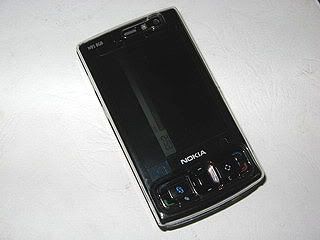 Black beauty.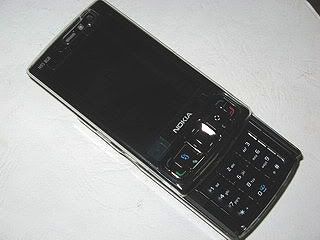 Push the slider up and out comes the keypad.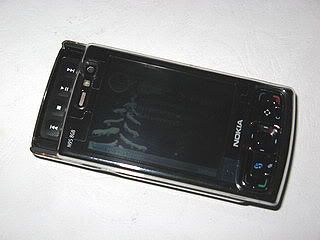 Push the slider down and you get a set of multimedia controls. The screen automatically changes to landscape mode as well.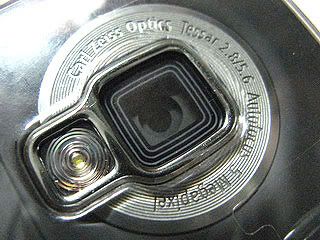 5 megapixel camera and built-in flash. No lens cover though.
A word of warning. They say imitation is the sincerest form of flattery, and with all the praise the N95 has been getting, it's no surprise that a lot of imitations and fakes have been flooding the market lately.

If you're out to get your own N95, you better know how to tell the real deal from the bootleg ones. Check this article out for more information.

Some fakes have become so good that they can easily fool the untrained eye. When in doubt, just purchase your phone from an authorized Nokia dealer. And always remember, if the price is too good to be true, it's because it probably is.