Killing time....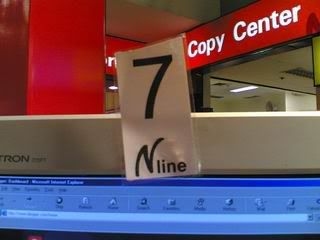 Lucky seven.
Here I am, stuck in some internet cafe' in Quezon City. I'd rather go home, but I can't. Because my car's plate number ends in 1, I can't drive it on public roads until 7 PM.

I'm a bit bushed, bored, and uninspired. Thought I'd rant a bit to while the time away.

I never really did like browsing the internet from public computers. I have to be doubly certain that I log off properly from my email, blog, and other accounts, lest they be accessible to others when I leave this station. I have this friend who once opened her Friendster account in an internet cafe', and left the computer without logging off properly. Some idiot took advantage of the fact and sent expletives to various people in her friend list, including myself. Let that be a lesson to all of you out there who aren't careful about their accounts when on public computers.

Aside from the security issues, one reason I dislike using public computers is that virtually all of them, to me at least, don't seem to be configured properly. And somehow I have this uncanny ability to detect the problem. Must be a mutant power of some sort. All I have to do is sit in front of the PC for a few minutes, maybe open a web page, and then I instantly recognize some problem. Some people can see the future, or read minds. Me? I can diagnose PC problems with just a glance. Can I have this skill traded for something else that will actually make me some money? Sometimes it's something as simple as the image on the monitor not properly resized to occupy the entire screen. Sometimes the refresh rate is set too low, which tends to give me eyestrain. And sometimes the computer is just badly set up. Sometimes it's slow, which oftentimes can be attributed to Windows being improperly installed, or the PC running with too little memory. Ah memory. You can never have too much of it, just like hard disk space.

I'm rambling, ain't I? Oh well, just typing words off the top of my head. I haven't done this in a while, maybe I should do this more often. I just hope the grammar and spelling isn't too atrocious.

This morning I went to an old college bud's house where I sold him my trusty and ever reliable Nokia 6600. It was, and still is, a pretty good phone, and I was able to use virtually all of its vaunted hi-tech features, from email, web browsing and Bluetooth connectivity, to a host of cryptic acronyms only nerds like myself can understand, such as SMS, MMS, GPRS, IrDA, POP, SMTP, etc. Not many people can claim that about their mobile phones. Hmmm. Maybe I ought get a life.

6 PM. An hour to go. Now where were we?

Now that I sold my other phone, I have a line which only consists of a SIM card. That means I have to buy another phone. Doesn't it just piss you off when you buy an expensive, state-of-the-art phone, only to see its value depreciate faster than you can say uncle? Just paying for the thing and taking it home knocks off about P500.00 to P1,000.00 of its price in case you have second thoughts about the model and you want to sell it to someone else. Unfortunately that seems to be the way technology is nowadays. Just like my HIS Excalibur Radeon 9600 Pro video card. Bought it for about P10,000.00 not more than three years ago. Sold it the other week for P4,000.00. Can be bought new for P6,500.00 today.

I suffer from hyperhidrosis. Specifically, sweaty palms. I've had sweaty palms since about high school, and I'm honestly tired of having to rub my palms on my handkerchief or on my pants every time I have to shake someone's hand. I've heard that the only true cure is surgical, wherein a surgeon cuts something or other inside my hand to deactivate the sweat glands. Seems pretty extreme to me, though there are times like I feeling like opting for that surgery, like now for example.

It's now 23 minutes past 6 PM. Enough time I suppose to buy something to eat before I finally drive home.

I guess this winds up this rather nonsensical blog entry.

And if you read this far, congratulations! It's either you're a fan of this blog or you're bored silly just like myself. And somehow I think the latter premise is more likely. :-)

And by the way, if you know someone who's looking to buy land in Quezon City or in Cabanatuan City, please refer him/her to the ads I now put below my entries. Hell, what have I got to lose? If you wanna place an ad, just tag me or send me an email. Its free. :-) Why bother with ads? Call it "diversification".

Peace out.