Brain transplant....
Well, after several hours of shoehorning a new motherboard and CPU combo into my PC and reinstalling Windows XP and virtually all of my software, I can finally breathe a sigh of relief.

The deed is done.

I replaced the ECS K7VTA3 v3.1 motherboard and Athlon XP 2400+ processor with a MSI K8N Neo v2.0 and an Athlon 64 3000+.

The K8N Neo v2.0 is a fully loaded Socket 754 motherboard with an NVIDIA nForce3 250 chipset. It features an 800 MHz HyperTransport interface, support for DDR 400, ATA 133 and SATA 150, ATA and SATA RAID, USB 2.0, built-in 5.1 sound and network capabilities, and expandability via one AGP 8x/4x and five PCI slots. It also features dynamic overclocking.

The Athlon 64 3000+ is a 64-bit processor based on AMD's 0.09 micron Venice core. It has a transistor count of 76 million, or more than double the 37.6 million transistors of my old Thoroughbred-B Athlon XP. It runs at 2.0 GHz, and has 512 KB of L2 cache. Here are some before and after pictures: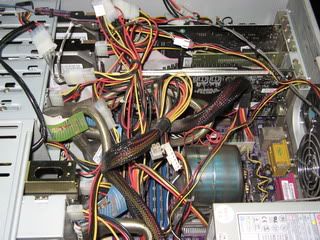 This was the inside of my PC before the transplant. What a mess.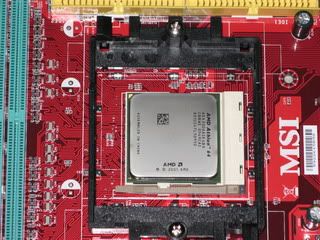 Athlon 64 installed in its socket.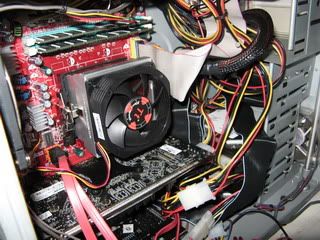 Finished installation. Cooling the processor is a Thermaltake Silent Boost K8, an all copper heatsink with an 80 mm fan. I wasn't really satisfied with the stock boxed aluminum cooler, so I installed this one instead.
I'll let you know how the updated rig performs after I put it through it's paces. :-)