Six years later....
Last year I posted an entry about a photo I took of my son in 2000 entitled "Lakeside Serenity". He was just three at the time. That photo was, and still is, one of my favorite photos of my son. In case you missed that one, here it is again: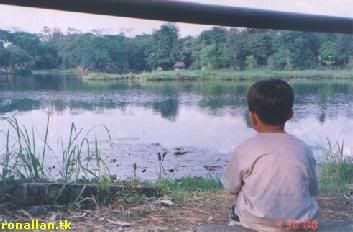 Lakeside Serenity.
After more than six years, my son and I went back to the lake and we tried to locate that very same spot. Things were a bit different, but I think we hit it pretty close, except for the angle, which was a bit off. Nonetheless, I think its close enough:

Lakeside Serenity. Plus 6.
I guess a lot has changed in six years. The trees seem taller, but the small hut-like structure is still there in the distance.

Technology has changed a lot too. The earlier photo was taken using an old 35 mm film camera (Minolta Riva Zoom 105). The latter one was taken using a 2 megapixel camera phone (Nokia N70).

I guess there's something to be said about change. Yes, change is constant. But if you give pause for a little while and looked around, and I mean really looked around, you'll notice that some things are still the same. And oftentimes, the things that stay the same are those which truly matter.

Maybe in another six years, my son and I will do this again. :-)