Communing with nature....
I needed a break. So yesterday, on a whim, my son and I sought out the La Mesa Eco Park which I was told was located close by, in Fairview in Quezon City. Little did I know that it was only about a ten minute drive from our house.

The way to the park is a bit unassuming, since you have to enter East Fairview, which is actually a private residential subdivision. Though we haven't been to the place before, it wasn't actually that difficult to locate. We traversed the main street named Marlboro street (all of the streets in this subdivision are named after cigarette brands) and after following the signs, we ended up crossing the top of the La Mesa Dam before going downhill to the park area itself.

For some reason, picture taking wasn't allowed along the length of the dam itself. Of course, that didn't really deter us. :-)



One of the reservoir's risers.



Current water elevation.
The Eco Park is situated at the foot of the dam, smack dab in the middle of the La Mesa watershed which consists of about 2,700 hectares of forest and reservoir. The reservoir is the principal source of water for Metro Manila, supplying 1.5 million liters of water a day, and the forest area is so large that it spans well into Caloocan City in the north and Rizal Province to the south.

Admission isn't free, though it isn't that expensive at P50 a head. However, you're entitled to a P10 discount if you can show an ID proving that you're a Quezon City resident.

Main entrance.



To get to the park itself, you have to go downhill a long path surrounded by heavy forest growth.



In the middle of the park is a huge lagoon.



I wonder how deep the water is.



A man fishing. You can rent fishing poles and pay for the fish you catch at P80 per kilo.



My son at the foot of the flower terraces.



Nice view.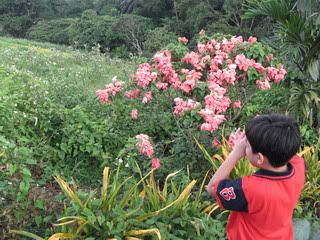 I handed my son a digital camera and told him to let loose. Here he is composing a shot. Check out the pictures he himself took on his blog here.



Not many places as pretty as this in Quezon City.



Lilies in bloom.



Statue in the middle of the lily pond. A man and a woman on a turtle. I don't really get it though.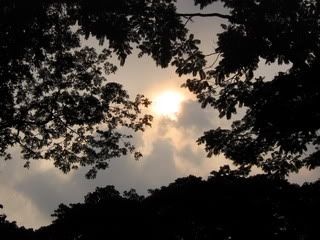 Sunset. Time to head on home.
The pictures in the preceding post were also taken in the Eco Park. The park is actually a good place to practice your photography, if you're into that sort of thing.

If you're interested in visiting the La Mesa Eco Park one of these days, just follow the map and directions here. If you're into nature, or if you simply want a break from the hustle and bustle of urban life, I'm sure you'll find a visit to this park a welcome experience. We certainly did. :-)