Hexakosioihexekontahexaphobia....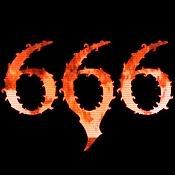 Can you say Hexakosioihexekontahexaphobia? I can't. Hexakosioihexekontahexaphobia is defined as a morbid fear of the number 666. So how is that relevant? Well, today, the date is June 6, 2006. The sixth day of the sixth month of the sixth year of the first century of the new millenium. 6/6/06. 666. Sescenti sexaginta sex.

This is what the Bible has to say about the number 666:

Here is wisdom. He who has understanding, let him calculate the number of the beast, for it is the number of a man. His number is six hundred sixty-six. - Revelations 13:18

While many associate the number with a beast, an entity of pure evil known as the Antichrist, foretold to be the bringer of death, war, disease and famine to the world, several scholars have suggested that the number 666 is merely a reference to the Roman Emperor Nero (decoded using Hebrew letters and Gematria), who was known for his persecution of early Christians. There are even some who claim that the number 666 is a mistranslation. In fact, it should be 616, as it is indeed written in some texts.

So today is 6/6/06. Does that mean that this day is more evil than most? It doesn't seem that way. In fact, it seems just like any other day, except for the numerical play on a date which happens only once in a hundred years.

I guess its safe to say that I don't have hexakosioihexekontahexaphobia. Oh, I have phobias of my own, but the fear of the number 666 ain't one of them.

But what about all those calculations proving this person, or that place, or that thing, is the Antichrist by devising some numerical code, applying it to a person's name, and getting the total 666? Like for example, HITLER (applying a numerical cipher where A=100, B=101, C=102, and so on, and adding all the numbers up) or US OF AMERICA (where A=6, B=12, C=18, and so on, and adding all the numbers as well)?

Actually, any name (or word for that matter) can be mathematically converted to the number 666 by using linear equations known as diophantine equations (don't quote me on this, I only read it somewhere). For example, you could always start with a simple algebraic equation ax+bx+cx...+zx=666 where a, b, c, etc. represent the letter sequence themselves and x is the multiplier to come up to a total of 666. Did I explain that correctly? I did poorly in higher mathematics in college so you have to bear with me...

Here's one I came up with, using the above equation. I have to admit, I'm not sure if the equation above always works though...haven't tested it fully. Nor should I probably spend the time testing it lest you think me as some sort of weirdo. :-)

Using a cipher based on multiples of three, where A=3, B=6, C=9, and so forth, the full name of President Gloria Macapagal Arroyo, Gloria M. Macapagal-Arroyo (I take it not many of you know Gloria's middle name is Macaraeg) comes out as follows:

G=21
L=36
O=45
R=54
I=27
A=3
M=39
M=39
A=3
C=9
A=3
P=48
A=3
G=21
A=3
L=36
A=3
R=54
R=54
O=45
Y=75
O=45

TOTAL=666

Why multiples of three? Well because it adds up. Or perhaps we can come up with some absurd convoluted reason. She first became President in 2001. 2+1=3. She's the 14th President of the Philippines. 4-1=3. She was born on April 5, 1947, 4/5/1947. 4+5+1+9+4+7=30. 3+0=3. Or EDSA Tres. Take your pick. It doesn't necessarily have to make sense.

So, does that mean that President Arroyo is the Antichrist? Hardly, but for some people, especially those in the political opposition, it probably makes sense. Hell, it even makes a little sense to me. :-)

If I had the time or inclination, I can probably come up with a specific code to make any name add up to 666. So what does that mean? Simply that those ciphers and conversions don't mean jack, and unlikely to be a reliable indicator of who the Antichrist is, assuming one exists, or that its even a person.

All in all, 666 is just a number, and nothing else, well, at least as far as today is concerned. I could be wrong though, and I wouldn't be surprised if I were. Suffice it to say that today is a day just like any other, and except for the rare combination of numbers making up the date, there isn't really anything unusually evil about today. Unlike, perhaps, a date like 9/11.

That's enough on this. I'm going back to my books. I still have tons to read.

Postscript:

Come to think of it, maybe President Gloria Macapagal-Arroyo is the Antichrist. :-0

Links:

666 - The Number of the Man Antichrist
Jim Loy's Pseudoscience Page - 666
666 wrong number of prophetic beast?