Candle in the dark....
If any of you are wondering why I didn't post anything on Saturday, here's a hint why I wasn't able to: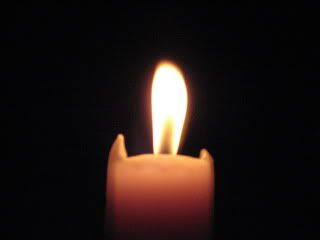 Better to light one candle than to curse the darkness - Chinese proverb.
Thanks to typhoon Caloy (known internationally as Chanchu), power was out for almost the entire day. And we were lucky, some households only got power the day after.

Thank the heavens it was only power. The latest toll put the deaths as a result of typhoon Caloy at 37, mostly in the Bicol region and in the Visayas area. Poor souls. May God have mercy on them.

We would like to think that we're so technologically advanced, that we're immune from the elements. Nothing can be further from the truth.

When nature speaks, all we can do is listen.