Cardinal Sin passes away....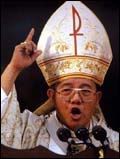 Jaime Cardinal Sin, former Archbishop of Manila and one of the heroes of both the 1986 and 2001 People Power movements, passed away at 6:15 this morning at the Cardinal Santos Medical Center due to multiple organ failure. He was 76.

He was born Jaime Lachica Sin in New Washington, Aklan, on August 31, 1928. He entered the priesthood in 1954, in the Archdiocese of Jaro, Iloilo. He later became its auxilliary Bishop, and later on, its Archbishop in 1972. Two years later, he was appointed Archbishop of Manila. In 1976, he was raised to the College of Cardinals at the age of 48, and until 1983 was its youngest member. He was present in both of the Papal Conclaves of 1978 which elevated Albino Cardinal Luciani, then later Karol Cardinal Wojtyla to the Pontificate. He was even referred to at one time as papabile, a possible successor to the Papacy. Unfortunately, he was not able to attend the last Papal Conclave earlier this year due to the declining condition of his health.

Cardinal Sin is fondly and most vividly remembered as the the moral and spiritual backbone of the 1986 and 2001 popular uprisings (see my earlier post on the 1986 EDSA Revolution here). He is reknowned for never being afraid of intervening into politics or affairs of state, both to the delight and disdain of some Filipinos. He was an outspoken critic of corruption, immorality, inequality, abortion, and the death penalty. His devotion to the cause of truth, justice and peace has left a legacy that still remains with us to this very day, a legacy that will continue to live on in the hearts and minds of the faithful.

He won't be forgotten.

Requiescat in pace.