Traffic on Katipunan....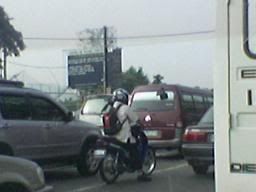 Someone should really look into the horrendous traffic jams which have been occurring every morning for the past week along Katipunan Avenue in front of the Ateneo de Manila University campus. Just passing in front of the school can now take you at least twenty minutes, probably even more, because of the huge volume of vehicles trying to make a u-turn to the northbound side and enter the campus. As a result, traffic is sometimes backed up all the way to the intersection of Commonwealth Avenue and Tandang Sora as well as almost the entire length of CP Garcia Avenue inside the UP Diliman campus. Its pretty obvious that the traffic is because of the school and nothing else, because the moment you drive past the campus, the heavy traffic jam disappears abruptly, just like that.

Ateneo, being one of the country's more exclusive and expensive schools, has had the reputation of having a student population so affluent that it has been suggested that the vehicle to student ratio is almost 1:1. While there are no statistics to prove or disprove this, just passing in front of it at around seven or so in the morning will lead you to no other conclusion.

I would like to call on the authorities, perhaps the Quezon City government, the MMDA, or maybe even the ADMU administration to try and do something to ease the traffic situation in this area. I'm not exaggerating. The traffic is really horrible. Hope someone does something about it soon.