Filipino Roots....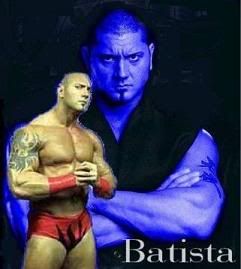 Are you a wrestling fan?

Did you know that the current WWE World Heavyweight Champion Batista is in fact, half Filipino? His father is a Filipino, his mother, Greek.

His first appeared on national TV on SmackDown as Deacon Batista in May, 2002, and six months later he made his RAW debut. With his domination of opponents in the ring he made himself noticed, formed a partnership with Ric Flair, and later on formed Evolution with the addition of Randy Orton and Triple H. During his stint with Evolution, he held the World Tag Team Championship title twice with Ric Flair.

Such an alliance was not meant to last though, and Batista and Triple H collided at WrestleMania XXI with Batista the victor. He is slated to defend his title in a Hell in a Cell match against former WWE World Heavyweight Champion, Triple H at WWE Vengeance on June 26.

His real full name is David Michael Bautista. For some reason the WWE had the "u" removed from his last name.

Just goes to show that you never know where you're going to bump into someone with Filipino roots.

Suggested to me by Edward.

Links:

WWW.DEMON-WRESTLING.COM - THE OFFICIAL BATISTA™ WEBSITE
World Wrestling Entertainment, Inc.