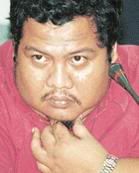 Last Monday, an ex-Palace aide by the name of Michaelangelo "Louie" Zuce went public, declaring that he had firsthand information implicating Pres. Gloria Macapagal-Arroyo in an plot to rig the 2004 elections.

Zuce, 30, is a former Political Liaison Officer assigned at the Presidential Liaison Office for Political Affairs under Presidential Assistant Joey Rufino.

He claims that he was present in a dinner-meeting held in January of 2004 at the President's upscale La Vista subdivision residence along with 27 regional and provincial officials of the Commission on Elections (COMELEC), Pampanga Provincial Board Member Lilia "Baby" Pineda (wife of alleged gambling lord Rodolfo "Bong" Pineda), Senior Superintendent Rodolfo "Boogie" Mendoza of the Philippine National Police (PNP), and Andy Gonzales, allegedly the brother of National Security Adviser Norberto Gonzales.

In the said dinner-meeting, he alleges that the President openly asked for support in the coming May elections. Afterwards, "Baby" Pineda distributed envelopes containing P30,000.00 each to COMELEC officials.

He also claims to be a distant relative of the notorious former COMELEC Commissioner Virgilio Garcillano, who was also allegedly in on the plot though he was not present in the said dinner-meeting. Garcillano is still in hiding and his whereabouts are still unknown.

It would seem like Pres. Arroyo's woes are definitely far from being over. Some of Zuce's allegations appear at first glance to be farfetched, but I guess that does not necessarily mean that they ought to be dismissed outright. At the very least, these allegations should be looked into. You never know. Despite assertions into Zuce's lack of credibility, he may actually be telling the truth. The truth seems so elusive these days...especially in the area of politics.

If you want to see the actual sworn statement made by Zuce, click here. It consists of eleven pages, scanned and saved as GIFs. Please feel free to share your views, if any, on this latest twist in the Gloriagate controversy.

Quaere Verum.