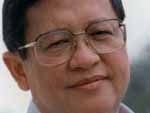 Raul Roco, former Presidential aspirant, former Secretary of Education, former member of the Senate and House of Representatives, former ConCon delegate, former IBP President, lawyer, family man and a true Filipino patriot and statesman, passed away at 9:16 AM yesterday at the St. Luke's Medical Center. The cause of death was cardiac arrest related to his ten year battle with prostate cancer. He was 63.

He was born on October 26, 1941, in Naga City in the province of Camarines Sur. He earned his college and law degrees from San Beda College, and his masteral degree from the University of Pennsylvania. His highest achievement in the field of politics was his stint as Senator which lasted from 1992 to 2001. He authored numerous laws, noteworthy among which were those protecting women, such as the Anti-Sexual Harassment Law, and the Anti-Rape Law, which earned him the title of "honorary woman." He also authored the new Central Bank Law, the Intellectual Property Code, and the Securities and Regulation Code.

He ran twice for President, in 1998, and in 2004. In 1998 he placed third, behind Joseph Estrada and Jose de Venecia. In 2004, beset with health problems, he placed fourth, behind Gloria Macapagal-Arroyo, Fernando Poe, Jr., and Panfilo "Ping" Lacson. I voted for him in both instances. It would seem that he was never destined to occupy the highest position in the country.

It was our loss.

He was a public servant and nationalist through and through. Three weeks before his death, he was even among those who called for Pres. Arroyo's resignation in the interest of national unity. His death makes him the second 2004 Presidential candidate to pass away, after Fernando Poe, Jr. who died in December last year.

His unique combination of intelligence, integrity and idealism made him a rarity among Filipino politicians. He will be missed. And he won't be forgotten as well.

Requiescat in pace.