Pasalubong....
The bringing of pasalubong is already a Filipino tradition of sorts, especially with our balikbayan countrymen. If I'm not mistaken, the balikbayan box was invented as a means of coping with the transport requirements of Filipinos returning to the country. I guess Filipinos were never known for traveling light. Now its virtually a staple of every Filipino returning to the Philippines. :-)

As far as I can remember, every time a relative of mine residing in the United States comes back to the country to visit, I always end up receiving pasalubong in one form or another.

I don't really mind, in fact I appreciate the gesture. It's always nice to be remembered, even in the little things. And besides, I like getting things. Who doesn't? :-)

I just can't help but be amused sometimes with the pasalubong that I receive. Invariably, I receive U.S. made soaps, toothpaste, deodorants, shampoos, and other toiletries. Sometimes I get chocolates or other snack items. Don't get me wrong, I'm not complaining. I have always been a sucker for free stuff. I suppose things have been a lot different since I was a kid.

When I was just a little boy, having an imported chocolate or candy bar was already a big deal. Then, when you had a craving for chocolate, the best that you can probably do is a buy a pack of Choc-Nut, a box of Curly-Tops, a packet of Nips, or a bar of Serg's (do they still make those?). Kaya kami ng mga kapatid ko nun nagpapatayan para lang sa Butterfinger o Baby Ruth. Now, even the smallest grocery store has an extensive selection of imported confectionaries, from Cadbury to Van Houten. Its not much of a big deal anymore. La na tuloy thrill.

The same with toiletries. You'd be hard pressed to find imported soap or other similar stuff in the day. Now, they're everywhere. Thanks to globalization, most of these "imported" item are probably even made here. That's progress for you. Dati ang Dove pang okasyon lang. Ngayon pwede na gamitin sa paa. I keep receiving Dove products from relatives coming to visit from the States, even though I was never really into such beauty soaps and shampoos. Perhaps a tad to feminine for me?

I guess the point of this blog entry is that the thrill of having imported stuff has significantly diminished. Virtually anything you want, you can get locally nowadays. When I'm asked by a friend or relative going out of the country what I want for pasalubong, I just shrug my shoulders and say: "Kahit ano."

Totoo naman e. Anything they decide to get for me, I'm bound to like. And if I don't, well, I'll still like it the same. :-)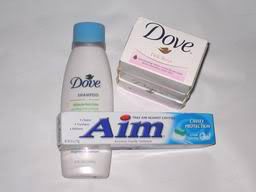 Mga laging bigay sa akin...