Self-Portrait with a Straw Hat
The other week Ning gave me a reproduction of Vincent Van Gogh's Self-Portrait with a Straw Hat. She used to hang it on the wall by her desk, and later on she decided to take it down and set it aside. She felt like getting rid of it, finding it to be a tad "too creepy" for her tastes. Never being one to turn down a free work of art, I was more than happy to take it off her hands. I guess I have this thing about "creepy" works of art.

This particular self-portrait was made in 1887, or three years before Van Gogh's death. It clearly shows his dwindling health at the time, and the sullen gaze from eyes of different colors begs us for help at the same time pushes us away. The eyes also project the illusion of following you, no matter what angle you view the painting from. No wonder Ning found it creepy.

The painting itself is rendered in an impressionist style, with creative use of color to create vivid contrasts. The paint is also applied in changing directions to project different forms and textures in the face.

It may be creepy to some, but I guess I, more than most, can easily relate to the somber nature of this painting.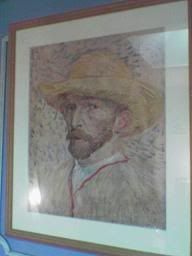 Thanks for the painting, Ning.