Not so long ago I got to meet a fellow blogger named Aion in a get-together of sorts sponsored by Nao, another fellow blogger. One peek at his blog at you will no doubt arrive at the unmistakeable conclusion that this guy is really into mecha, specifically Gundam. He is such a dyed-in-the-wool fan of Gundam that apparently one of his hobbies is assembling Gundam model kits.

Well, while I may not share his devotion, patience or meticulous attention to detail when it comes to assembling Gundam models, I do share his enthusiasm for the genre as well as his fascination with the models. In fact, I have a limited collection myself of Gundam mecha, mostly bought already assembled, as well as smaller-scale action figure type models, which my son really likes to play with. :-)

Here are some pictures:

My collection of Gundam mecha.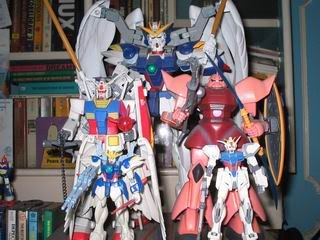 The large one is a W-Gundam Zero Custom.



This one is a Wing Gundam.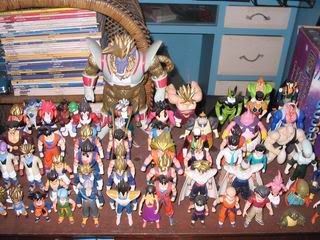 Incidentally, I also collect Dragon Ball Z figurines.



And 1/32 miniature automobiles. I must have more than 50 of these scattered all around my study. :-)
I just have to say that it is indeed a pleasure to get to know someone with somewhat similar interests...and believes that toys aren't just for kids. :-) Nice to have met you pal. :-)