The Gloriagate timeline....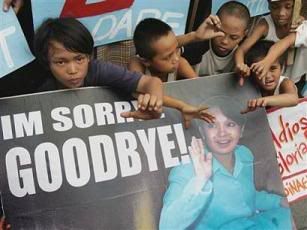 This is a simplified yet slightly updated version of the timeline of the ongoing Gloriagate crisis as published on the ABS-CBN News website. The original version of this timeline can be browsed here.

June 4 - Press Secretary Ignacio Bunye warns of an upcoming plot being hatched by the opposition to discredit the President by way of allegedly wiretapped recordings of phone conversations between her and a Commission on Elections (COMELEC) Commissioner.

June 6 - Press Secretary Ignacio Bunye calls a press conference, holding what he claims to be the "smoking gun" of the said plot. These were two audio CDs containing the recordings of the phone conversations of the President. He claims that one is authentic, and another one is not, being "spliced."

June 7 - Atty. Alan Paguia releases an edited and annotated thirty-two minute version of the phone conversations. He claims that the original recordings are more than three hours long.

June 8 - An employee of Rep. Ignacio "Iggy" Arroyo, Edgar Ruado, comes forward claiming that he "may" be the person only known as "Gary" on the recordings. This was speculated to be a botched attempt to cover up the true nature of the recordings early on.

June 9 - Press Secretary Ignacio Bunye retracts his original statement which in effect admitted that the female voice on the recording belonged to the President. Now, he claims to be "uncertain."

June 10 - Former National Bureau of Investigation (NBI) Deputy Director Samuel Ong comes forward, claiming to have in his possession the "mother of all tapes," supposedly irrefutable evidence that the President has indeed cheated in the last elections. He subsequently takes refuge at the San Carlos Seminary.

June 11 - Actress Susan Roces, widow of Fernando Poe, Jr., visits Samuel Ong at the San Carlos Seminary.

June 13 - The wife of Intelligence Service of the Armed Forces of the Philippines (ISAFP) agent T/Sgt. Vidal Doble speaks on radio and television, appealing for the "release" of his husband, which he claims to be at the San Carlos Seminary against his will. Ong claims that it was Vidal who was the source of the recordings.

June 15 - The NBI files sedition charges against Ong. Congress also sets a date (June 21) for the start of their investigation into the tape scandal.

June 17 - In a sworn affidavit, Doble implicates Laarni Enriquez, former actress and mistress of former President Joseph Estrada, as the financier of Ong's P2M offer to him to admit being the source of the tapes.

June 19 - COMELEC Commissioner Virgilio Garcillano was reportedly spotted in Zamboanga City.

June 21 - The Congressional inquiry commences. Committee members waste hours arguing over the rules of the proceedings.

June 23 - Sen. Panfilo "Ping" Lacson launches the Be Not Afraid movement.

June 26 - Pres. Gloria Macapagal-Arroyo appears on national TV, admitting to having been in contact with a COMELEC Commissioner during last year's election period. She attributes it to a "lapse in judgement" and apologizes to the public.

June 27 - As a result of the "admission" and apology, renewed calls for the President to resign have surfaced.

June 29 - Susan Roces gives a scathing reaction to the apology issued by Pres. Arroyo. Rep. Roilo Golez resigns his membership from the President's political party, Kabalikat ng Malayang Pilipino (KAMPI). First Gentleman Jose Miguel "Mike" Arroyo goes to Hong Kong, supposedly en route to the United States.

June 30 - Congress finally agrees to play the thirty-two minute Paguia tape.

July 1 - Almost 10,000 rallyists converge in Makati and call on the President to resign.

July 3 - First Gentleman Mike Arroyo returns after two days in Hong Kong.

July 4 - COMELEC Chairman Benjamin Abalos rejects calls for his resignation.

July 5 - Congress, after lengthy debate and votation, also plays the full length "master" tape which lasted almost three hours.

July 6 - T/Sgt. Vidal Doble testifies before the congressional hearing. He categorically denied having performed the wiretapping himself. Atty. Paguia confirms that former Senator Francisco "Kit" Tatad is the source of the tapes. First Gentleman Mike Arroyo leaves again for Hong Kong, on his way to the United States.

July 7 - The President makes a second statement saying that she will not resign her office. She also announces that her cabinet has submitted their courtesy resignations in preparation for an upcoming cabinet revamp.

July 8 - Ten of the cabinet secretaries who resigned publicly call on Pres. Arroyo to resign herself and bequeath the Presidency to her constitutional successor, Vice President Noli de Castro. Former Pres. Corazon Aquino likewise issues a statement calling for Pres. Arroyo's resignation. former Pres. Fidel Ramos, likewise issues a statement, one of support for Pres. Arroyo.

July 9 - Malacañang announces replacements for the resigned cabinet members.

Apparently the crisis is still far from over. All we can do is wait and see what happens next.

Quaere Verum.

Related Blog Entries:

Finally....
Safety in Numbers....
Anatomy of an Apology....
Full Text of GMA Admission and Apology....
Mea Culpa....
The Juetenggate 2 & Gloriagate Scandals - a Who's Who....
"Hello Garci" Ringtone and other Downloadables....
Let the Show Begin....
Download "Hello Garci" Ringtone....
Impinging on Press Freedom?
Unanswered Questions....
Slow Burn....
Vox Populi, Vox Dei....